【NEWS】TMU and NTUT established a Joint Research Center to accelerate the industrialization of R&D results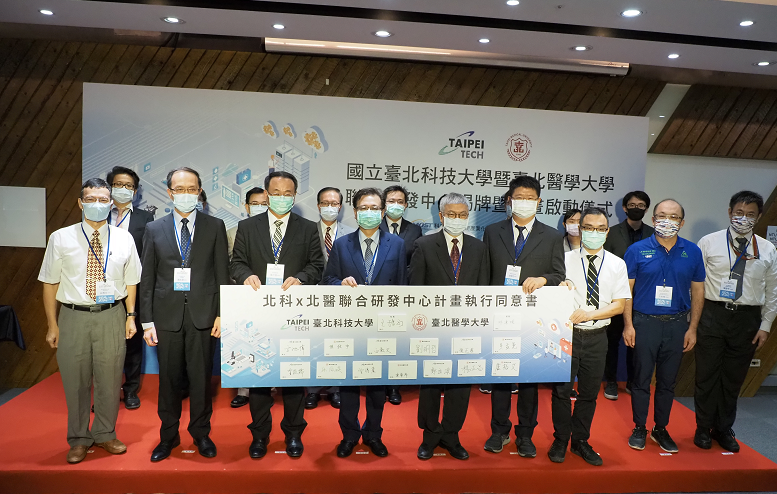 Taipei Medical University (TMU) and National Taipei University of Technology (NTUT) took more than a year of preparations. On September 3, 2021, the " NTUT-TMU Joint Research Center " was held inauguration and plan kick-off meeting, combining the unique fields of the two universities, and with smart medical and innovative medical devices as the target, accelerate the industrialization of the R&D achievements of the two universities.
President Lin Chien-Huang said that the cooperation between Taipei Medical University and National Taipei University of Technology is the best embodiment of cross-domain integration. TMU has rich experience in the field of biomedicine and commercialization counseling. With the strengths of NTUT, it will lock smart medical and innovative medical devices as key research and development projects in the future. The technology jointly developed by the two schools will be used in the clinical Resources and clinical verification accelerate the industrialization of research and development results.
The two schools started cooperation in 2021. For the first selection, 25 teams were registered. Finally, 8 teams were selected, including a total of 5 teams from the two schools, 2 teams from TMU, and 1 team from NTUT. Received funding subsidies ranging from 500,000 to 3 million yuan to assist the team to apply for patents, technology transfer and establish startups.
In the face of rapidly changing technology and society, the innovation of biotechnology and medical care is no longer supported by a single profession. It is necessary to strengthen and deepen cross-field integration. In the future, TMU will cooperate with NTUT to aim at the development of medical integration technology. Inspire more innovative research and development, and spark more sparks across fields.